For those of you that take vitamins and supplements, you may be like me and get seriously confused as to what to take, how much, when, why, etc. It makes my head spin. Then the cost of all these supplements makes my bank account start throwing alarm bells.
Sigh.
Yes, yes, you're getting ready to read a plug for
Shaklee's Vitalizer
. Hear me out though. Please?
Vitalizer
is the most advanced multinutrient supplement pack in the marketplace today. It includes Vita-Lea multivitamin, omega-3's, phytonutrients, probiotics, and much more.
Vitalizer
is the first step toward an optimal nutritional foundation with 80 bio-optimized nutrients in ONE DAILY SERVING strip.

Did you read that? ONE DAILY SERVING strip. Not 15 different vitamins, not 15 different bottles strewn about, not taken at various times of the day. How convenient is that?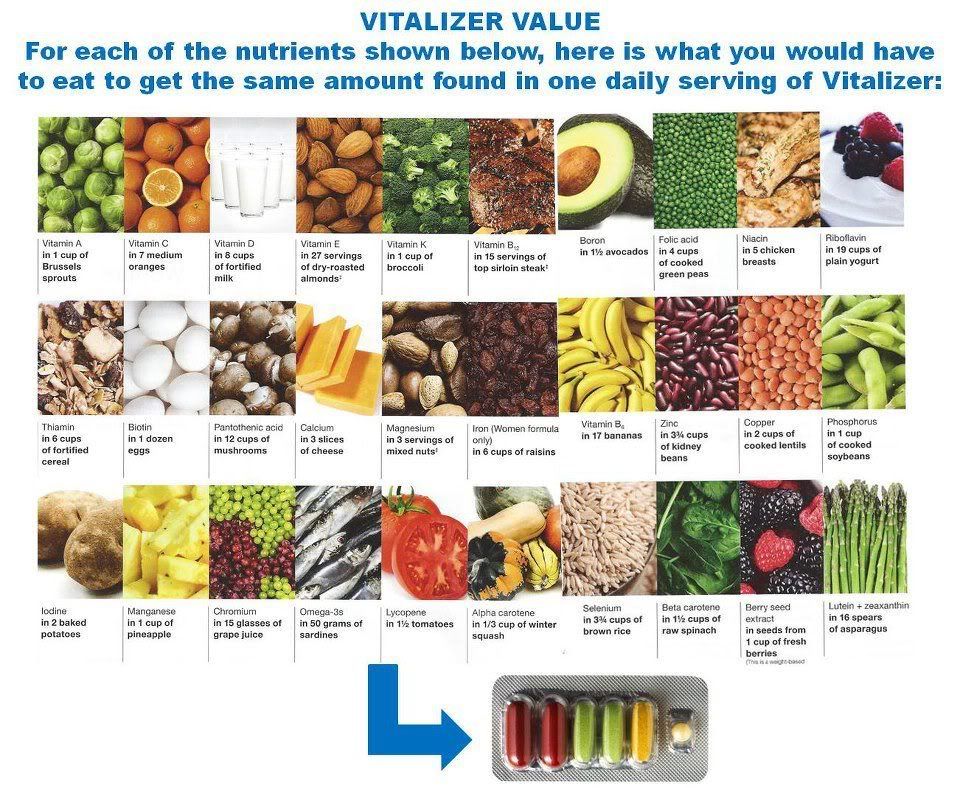 This chart shows what you would have to eat to get the same amount in one daily serving of Vitalizer. Oh my gosh, I like to eat, but that's a lot of food.
OK, looks great right? I know what you're thinking. How much is it? As a Shaklee member it's $79.25 per month.
Hold your horses. I know it sounds expensive, but check this out.
Here's a line-by-line label comparison of vitamins from Walgreens and GNC vs. Shaklee Vitalizer with Iron. All comparisons were done online in 2012. To get the same amount of vitamins and minerals found in one 30 day supply of Vitalizer, here's what you'd have to buy:
Walgreens - 30 Day Supply
Centrum Performance Multivitamin: $11.99 x 4 bottles
MegaRed Omega Fish Oil: $29.99 x 2 bottles
Naturemade Probiotic: $11.49 x 1 bottle
Total Cost: $119.43
GNC - 30 Day Supply
Women's Ultramega: $39.99 x 1 bottle
Triple Strength Fish Oil: $38.99 x 1 bottle
Ultra Probiotic: $39.99 x 1 bottle
Total Cost: $118.97
Shaklee 30 Day Supply
Vitalizer with Iron: $79.25 member price. Get an additional 10% off on monthly autoship.
So that's about a $40 per month difference!
Or if you're a big coffee drinker and want to compare it this way...it costs about
$2.64 per day to be healthy and well
. Can you get your large coffee for that much every day? Hmmm...
OK, I want you to be healthy. You're WORTH IT! Trying Vitalizer is
risk-free
. If you try a full 30 day supply and are not happy with how you feel, I will give your money back! No questions, no problems!
Would you be interested in getting your life healthy and happy? Don't think Vitalizer is right for you? No problem!
Contact me
and I can put together a great supplement plan for you!