I've been getting lots of testimonials from my customers that I love to share with others. So I'm going to try to make each Tuesday 'Testimonial Tuesday' over here! Each week I'll share my latest customer emails describing the
Shaklee products
they use and love!
You can always find the testimonials in my archives or on my
Shaklee website
.
What is YOUR favorite Shaklee product?
Here's today testimonial about
Shaklee's dish detergent
!
"OK my husband is the biggest skeptic about green products. He's convinced they don't work. I quietly started using Shaklee's dishwasher detergent. After about a week he asked, "Have you noticed there's no more film on our glasses? Did you switch?" I was happy to show him Shaklee's detergent!"
Here's a little more info on our Dishwasher Detergent. Yes, we use it here at our house too! I'd been using the Cascade Packs...you know the ones that have the powder and gel in them? They worked just fine, until I accidentally bought some that were 'powered with Gain.' Oh my gosh, we couldn't even use our dishes after washing with those packs. The stench of Gain was everywhere and we could taste the detergent in our drinking glasses. It was disgusting. Which got me to thinking about how many years we've been ingesting the funk (as I like to say) from our dish detergent. Yuck.
Try it...you're going to like it!!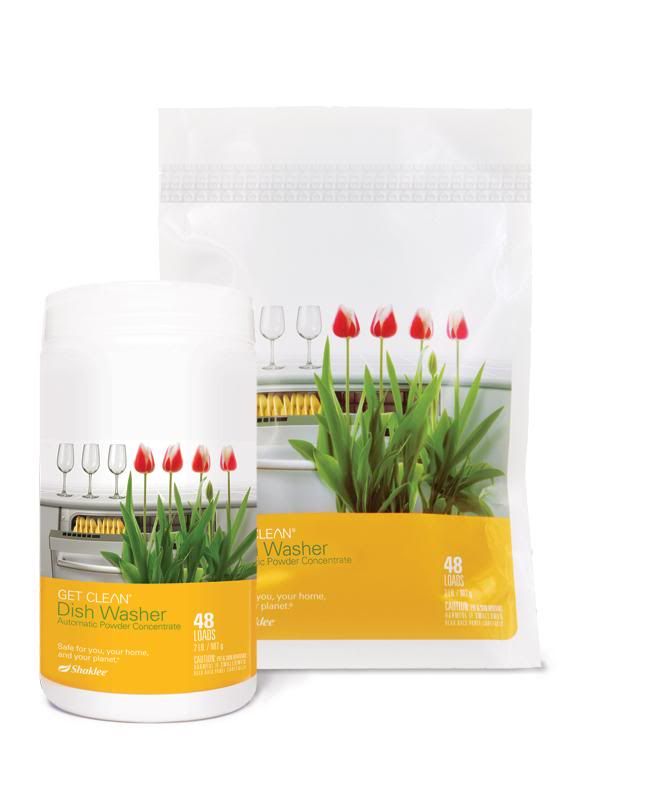 Get Clean Dish Washer Automatic Concentrate
It takes more than two and one-half boxes of Cascade
®
powder (45 oz.) to clean the same 48 loads.*
The deep, enzyme-activated cleaning power gently removes tough stains, leaving dishes and glasses sparkling clean.
Superconcentrated – cleans 48 loads – just 2 teaspoons in each dispenser cup.
No pre-rinsing needed – Removes dried on food and tough stains, so they don't get stuck on.
Dissolves quickly and completely, getting to work straight away.
Absolutely no chlorine and no fragrances, which can pollute the air that you breathe.
Comes in a handy resealable pouch with measuring scoop
Clean Credentials
Natural
Concentrated
Biodegradable Surfactants
No phosphates
No chlorine